Rosebud.ca
Thorny RosE Cafe
Be sure to mention you saw the ad at Rosebud.ca!
The Thorny Rose Café
Box 688
122 1st Ave. West
Rosebud, AB, T0J 2T0
Ginger Hutchinson
Café: 403-677-2507
email: RosebudThornyRose@gmail.com
Just West of the Opera House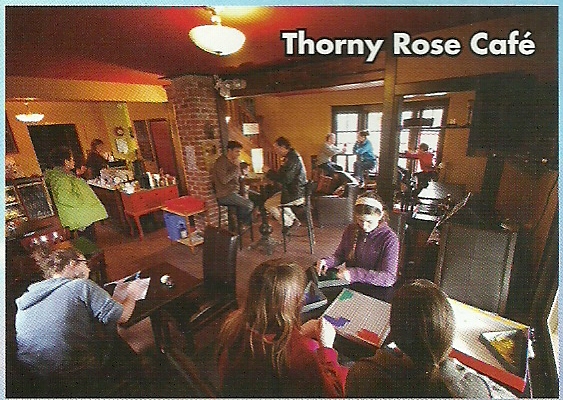 SPRING Hours of Operation:
Wednesday 11am – 8pm
Thursday 11am – 8pm
Friday 11am – 8pm
Saturday 11am – 8pm
Sunday 11am – 8pm
As the weather warms up, watch for our outdoor garden settings to appear. In the meanwhile don't hesitate to drop by, grab your favorite cuppa and a bite to eat and snuggle by the fireplace, or if the sun is shining – outdoors on the yard swing.
REMEMBER: If you're IN A HURRY or want to MAKE A BOOKING for your special group, or require TAKE OUT, give us a heads up – call ahead (403)677-2507, and we'll do our best to make your life easier and just a little bit more special.
Fully Licensed, music, gallery and gifts
WE BOOK EVENTS, Unique like you…
~ Breakfast Specials
~ Birthday Parties
~ Group Luncheons
~ Evening Get-togethers
Looking for a cozy, intimate, seasonally decorated environment to book your special event...
~ 403-677-2507
IN A HURRY - Guarantee timely service by pre-ordering.
On Facebook as the Thorny Rose Café
Home of the Rosebud Folk Club. Search us out at this link on Facebook to find the latest on concerts and events.